The Doll Project
I'm a Barbie collector from way back, and even something of a Barbie scholar. And there's nothing I love better than combining a few of my interests together in new ways...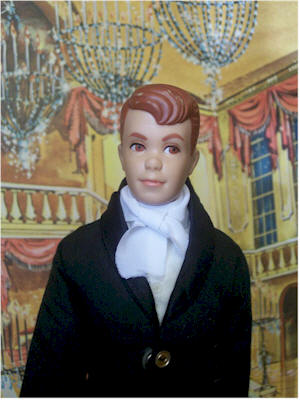 So it was inevitable that at some point I would look around the collection and start casting my books, for a light-hearted and (I hope) fun video introduction to them. Discreet Young Gentleman was up first, because it had fewer characters. For Dean, I would need a red-headed male doll, and there was an obvious candidate: Mattel's Allan, from 1964.
I considered adding freckles with acrylic paint, but chickened out at the last second. I mean, this guy is roughly as old as I am, and even though acrylics are supposed to be washable, I couldn't bring myself to risk it. So Allan became Dean, without the spots.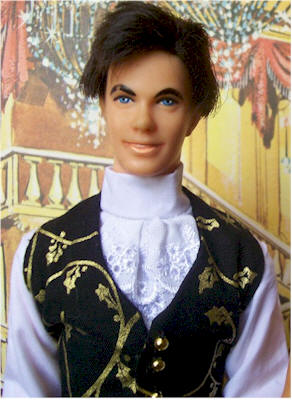 Rob was a little tougher to cast. In the book, he has dark hair and dark eyes, and about the only dolls Mattel graces with this combination were a bit too ethnic for this character. But I liked the look of my Mod Hair Ken, and decided not to hold his blue eyes against him. Hey, if Showtime can cast slender, 5'7," brown-haired Jonathan Rhys Meyers to play the massive 6'3" red-haired Henry VIII, I can surely fudge a little in my casting, too.
The leads were chosen. For the supporting cast, I used a mixture of older and modern Barbie dolls as well as action figures from other sources. Then I began thinking about the logistics of clothing, backdrops, props.
Discreet Young Gentleman takes place over the course of a road trip, so a coach seemed essential. I found one at my local Goodwill for about three bucks.
Unfortunately, it was pink. Very, very, pink.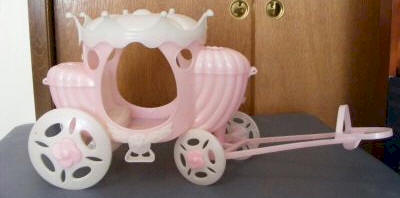 The bits that show white in the picture? Embedded with glitter.
Something had to be done about that. I don't consider myself particularly good at crafts, but we had some black spray paint lying around the house so I figured I would give it a try.
Hint: nail polish remover is about the only thing that will get glossy black spray paint off of your hands. Or at least most of it.
Three coats later, the body exterior was finished, and I was able to tackle the interior (flat black), seat (English mustard) and trim (gold). We have a lot of acrylic craft paints lying around, too. They wash right off your hands. A little less easily from your clothing...
When I was finished, it looked like this: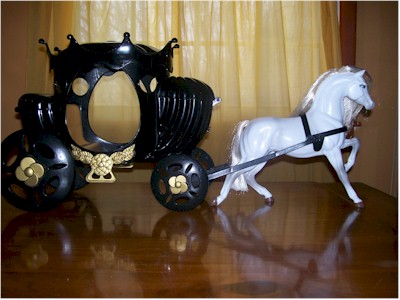 In the end, it appears in exactly one shot in the film. Oh, well. It's still pretty.
I put at least as much--okay, a lot more--effort into building a set. I confiscated a vacuum cleaner box, downloaded doll house wallpaper, doll house flooring, and doll house brick tile and printed it out, then used it to line the box. The ceiling I painted with another of our acrylic craft paints. The scene I had in mind was in Dean's uncle's rooms in Bath, so I dug out a doll house window (yes, we really do have stuff like this lying around--you should see my house...better yet, you shouldn't) and stuck a photo of a street in Bath behind it.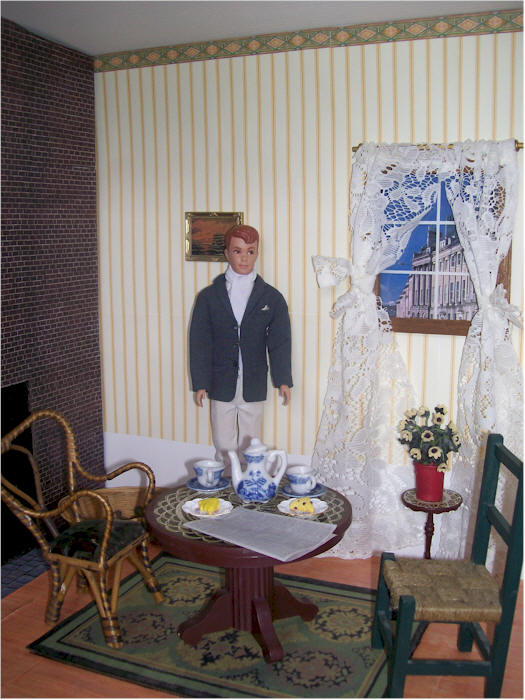 Okay, the curtains look awful, because the one thing in life that I will admit that I cannot do is sew. I just can't. But the rest of the room isn't bad. The furniture is mostly stuff I had on hand (thank you, Jody's Victorian Parlor) or picked up at thrift shops.
I bought a doll tea set before I realized I already owned one, so now I have two--but the one in the picture is an era-appropriate Blue Willow pattern, and the wallpaper is a Regency pattern, too. Miniature flowers came from Michael's craft store, and the picture behind Dean's head is a Lundy doll house picture from the 1960s that, yes, I happened to have lying around.
And the newspaper on the table? It's a facsimile of a genuine Bath Chronicle from 200+ years ago, which I scaled down and printed on actual newsprint.
So where in the film does this room appear?
It doesn't. I meant to show the scene where Rob reads something shocking in the Bath paper, but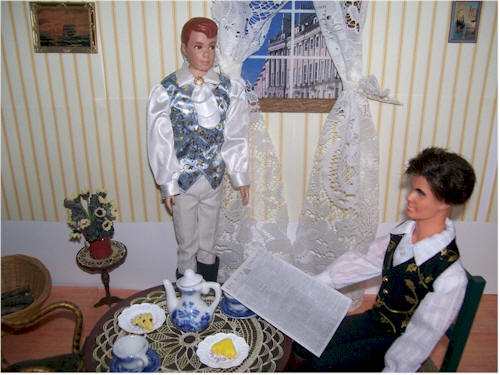 when I actually began putting the video together, it didn't seem to fit.
What the hell, now I have a doll house.
At the last minute, the room set did get used, at least in part. I decided to use a shot from the molly house Dean and Rob visit (it's in the short version only), but the wallpaper didn't look appropriate. I stuck a wall up from the Little Theatre, added some period nude male art on the walls, and grabbed the piano out of Jody's parlor.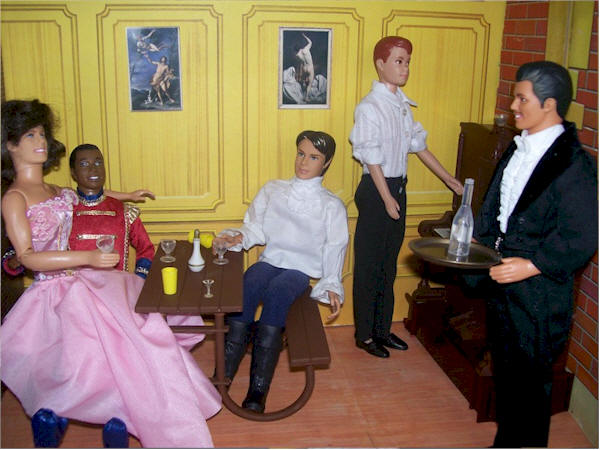 Apart from painting a hot pink Barbie picnic table brown, the whole thing went together in about five minutes.
The other backdrops that appear in the finished video are all from a 1964 Barbie Little Theatre set I picked up at auction years ago. The stage is trashed, but the backdrops are in nice shape, and the variety was just what I needed: woods for the holdup scene, a castle interior standing in for one of the cathedrals where Dean and Rob do a little ghost hunting, the outside of the theater for a street scene, castle exterior for the Lady in Grey, cottage for Rob entertaining one of his customers. About the only one I couldn't find a use for was the Arabian Nights backdrop--the rest fit into my story with surprising (and convenient) ease.
Clothing had its difficulties. The Lady in Grey became the Lady in Greyscale because I could not find a grey cloak for her anywhere.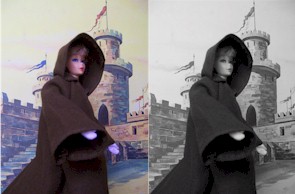 She ended up borrowing a brown one from a nearby Jedi knight, and I greyed the color out. It still looks like a black and white shot of a doll in a brown cloak, but hey--I did the best I could.
Speaking of the best I could, tying little tiny cravats is a real bitch. Mattel doesn't make them (at least not that I could find), so I had to cut long strips of white cloth and do it myself. The one in the first shot of Dean above isn't bad, but the look was achieved with difficulty. What Mattel does make, in abundance, is various prince outfits with ruffled shirts or lace jabots. Slightly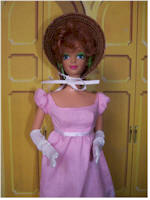 out of period, but a lot easier than tying cravats. I also picked up a couple of handmade outfits and borrowed from other dolls to complete the cast's wardrobe.
For Minerva, I found a Barbie dress with an Empire waist (it's actually Clara's nightgown from the recent Nutcracker set, with the lace removed from the bodice), added gloves and faked a bonnet out of an old straw doll hat. I loved the look of Dance Club Kayla's curly bangs within her bonnet, so she won the role despite her garish eye shadow and bright green plastic earrings. Her dress isn't full length, as it should be, but I still like the way she turned out.
Oddly, she never appears in a scene in the book, but shows up twice in the film.
I Googled for free background music and used Windows Movie Maker to throw the whole thing together. How long did it take? I did the first few shots and bought the coach in November. I didn't work on it every day, of course, and it took time to find clothes I was satisfied with, but finally declared it finished in March. Below are a couple of shots that didn't make the final cut, but might be of interest if you've read this far.
Next up: The Price of Temptation. I've already cast Jamie, Charles, and Rebecca, but haven't decided on a Stephen yet. Stay tuned!
Deleted scenes
Dean, thinking the holdup is real, leaps from the coach and tackles an unsuspecting Rob: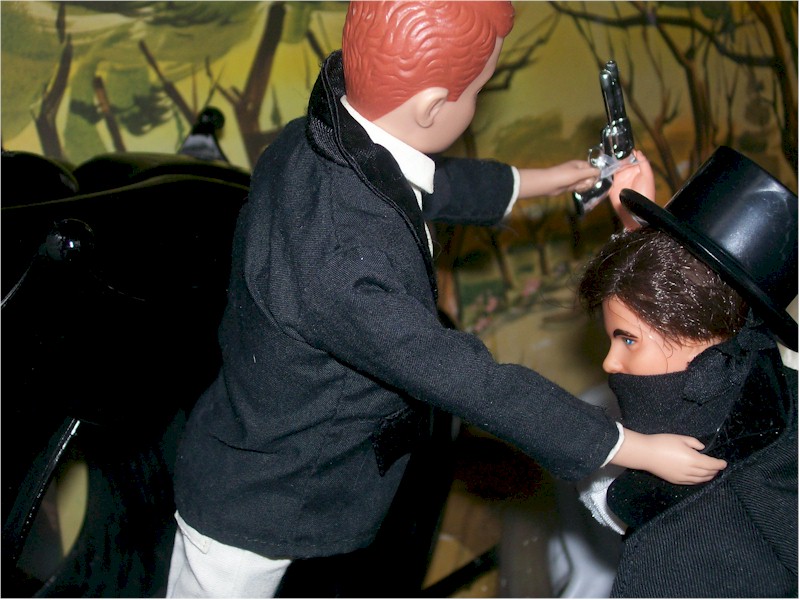 Dean and Erich, the coachman: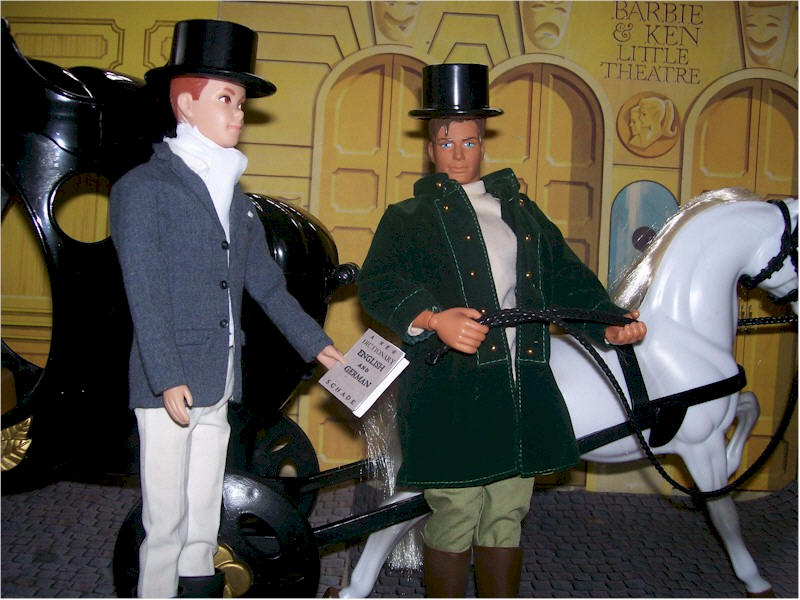 Dean dreams about how it could have happened: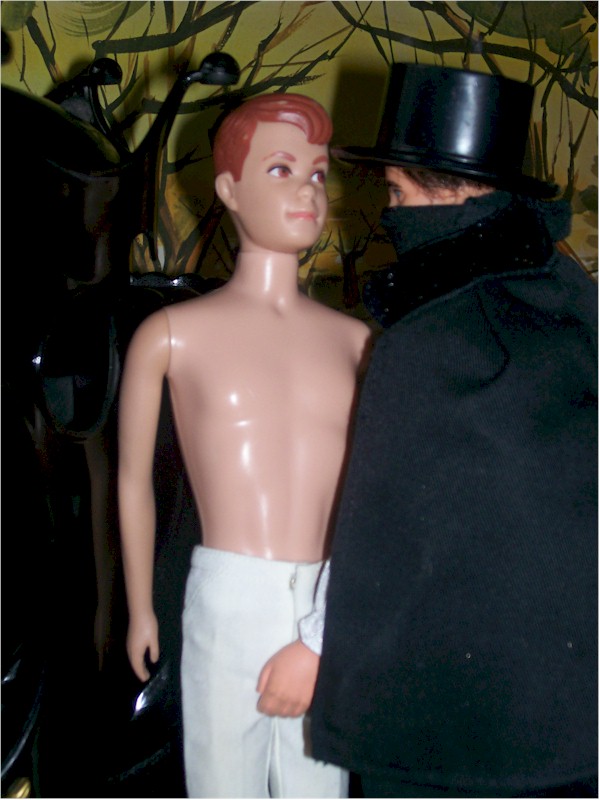 Another Lady in Grey shot--I was going for the cover of a 1970s gothic look. I think the vertical one I used is better, but this was my second favorite: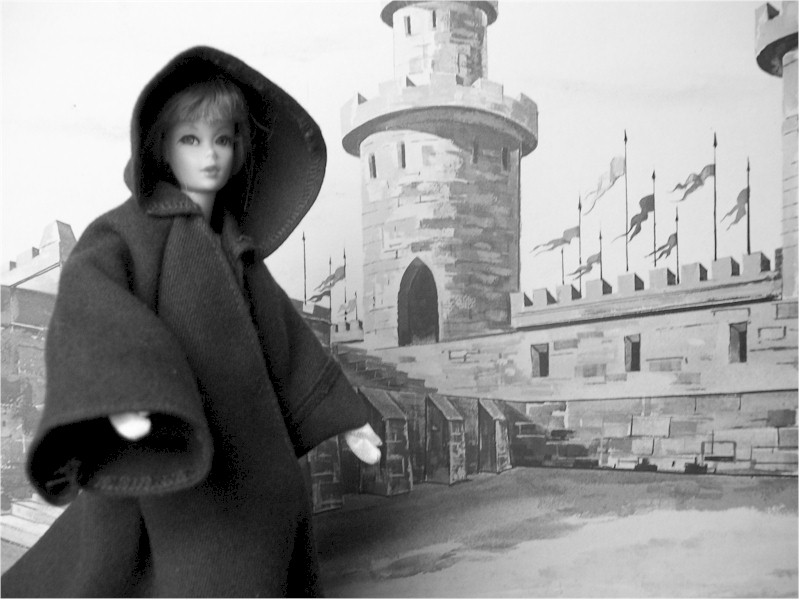 I originally labeled the pictures using text from a 1796 dictionary (which I also used to create the newspaper ad in the longer version of the video), but when shrunk down to video size, the labels were unreadable, so they had to go.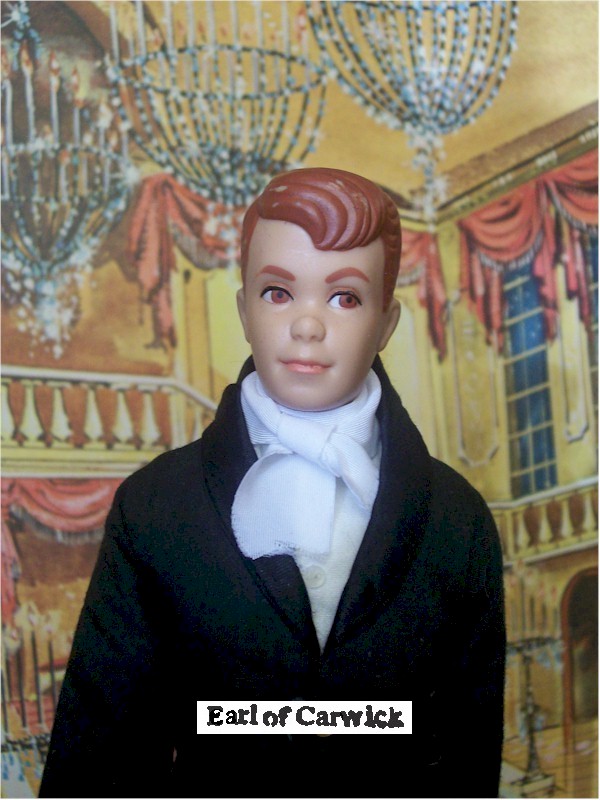 Minerva before I removed the lace from her dress: