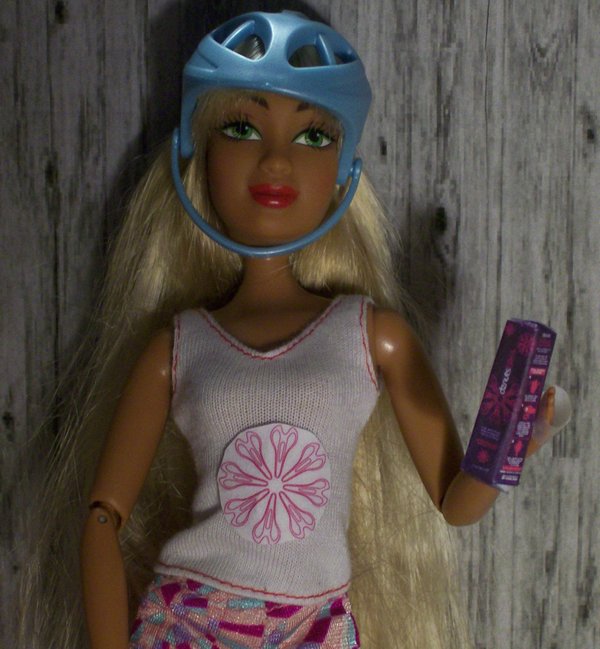 Chamois Full of Bliss

Cycling Team

2012 Season

Go straight to latest update. You know you want to.

Bliss is back! In our amazingly successful debut season, Team Chamois Full of Bliss won (among others) the Worlds, de Ronde, Gracia Orlova, Alfredo Binda, Etrusca, Vargarda, and finished an impressive 11th out of 133 teams in the general VDS (now FSA DS) competition on Podium Cafe (the world's most awesome hangout for fans of pro cycling).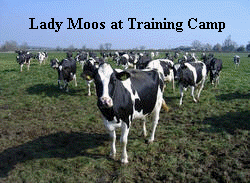 More importantly, we finished 101 places and 5618 points ahead of our arch-rivals, Team Lady Marmottes and their affable but sadly ineffective DS, Willj. In the aftermath, Will callously fired the rodents (despite their desperate plea to him to explain what went wrong), and is trying again with his new Team Spotty Cows, or Lady Moos, or whatever he's calling the bovine bunch. We wish him well, but really don't expect it.
Bliss, too, has made some changes. When we heard Marianne Vos was available, we jumped at the chance to add She Who Wins Everything to our team. To pay her according to her worth, we had to let some favorites go, but maintained many of the riders who contributed to our success in 2011. Our current team combined for over 17,000 points last year--let's see if we can better that in 2012!
2012 Season Wins
Omloop Het Nieuwsblad--Loes Gunnewijkk
Le Samyn--Adrie Visser
Omloop van het Hageland/Tielt-Winge--Lizzie Armitstead
Ronde van Drenthe--Marianne Vos
Novilon Euregiocup--Marianne Vos
Gent-Wevelgem--Lizzie Armitstead
Trofeo Alfredo Binda--Marianne Vos
Festival Elsy Jacobs--Marianne Vos
Stage 1, Tour of Adygeya--Julia Martisova
Tour of Adygeya--Alexandra Burchenkova
Stage 5, Exergy Tour--Claudia Häusler
Stage 2, Giro del Trentino Alto Adige - Südtirol--Fabiana Luperini
French Natonal TT Championship--Pauline Ferrand-Prevot
Russian National TT Championship--Olga Zabelinskaya
Giro Donne--Marianne Vos
Stages 1, 2, 4, 7, and 8, Giro Donne--Marianne Vos
Tour Féminin en Limousin--Marianne Vos
Olympic Gold Medal! (road race)--Marianne Vos
Olympic Silver Medal! (road race)--Lizzie Armitstead
Olympic Bronze Medal! (road race)--Olga Zabelinskaya
Olympic Bronze Medal! (time trial)--Olga Zabelinskaya
Meet the new team:
Marianne Vos

cost: 65 earned: 5872

Winner! Olympic Gold, Drenthe,

Novilon, Binda, Elsy Jacobs, Giro Donne, etc.

Lizzie Armistead

cost: 16 earned: 1615

Winner! Tielt-Winge, Gent-Wevelgem,

Olympic Silver medal

Charlotte Becker

cost: 8 earned: 546

Adrie Visser

cost: 8 earned: 1400

Winner! Le Samyn

Claudia Häusler

cost: 8 earned: 655

Winner! Stage, Exergy Tour

Olga Zabelinskaya

cost: 6 earned: 1225

Winner! Russian TT Champ,

Olympic Bronze medal x 2!

Alexandra Burchenkova

cost: 6 earned: 460

Winner! Tour of Adygeya

Pauline Ferrand-Prevot

cost: 6 earned: 1022

Winner! French Nat TT Champ

Christel Ferrier-Bruneau

cost: 6 earned: 220

Loes Gunnewijk

cost: 6 earned: 920

Winner! Het Nieuwsblad

Julia Martisova

cost: 4 earned: 110

Winner! Stage,Tour of Adygeya

Sara Mustonen

cost: 4 earned: 40

Pascale Schnider

cost: 4 earned: 100

Fabiana Luperini

cost: 2 earned: 695

Winner! Stage, Giro del Trentino

Katie Colclough

cost: 1 earned: 100

Winner! Stage, Gracia Orlova
September 22, 2012: This is it! The final countdown, the last picture show, the war to end all wars...The Women's World Championship Road Race. Bliss vs. Moos face off for the ultimate time this year, with a mere 599 points separating the two. It's going to be a nail-biter of a finish, with a grand total of 2605 points on the line, and 10 riders from each team going hell for leather after them! Stay tuned! THIS IS IT!
Bliss 14980-Moos 14381
I liked it better last year, when we crushed the Lady Marmottes by a million points or so...Speaking of marmottes...where ARE those poor little things?????
August 1, 2012: Wow! All 3 riders Bliss sent to the Olympic Time Trial scored today. Olga Zabelinskaya added yet another medal to her collection--with her two bronzes, she's the only woman to stand on the podium in both the road race and time trial. Huge congratulations to Olga! Lizzie Armitstead finished 10th and Marianne Vos 16th, giving us 415 points for today. Go, Bliss!
What's perhaps more important than what happened today is what DIDN'T happen. With points awarded to 20th place and only 24 riders in the race, it seemed a certainty that all six of the Lady Moos would score at least something, chipping away at Bliss's lead. But when the results were posted...yeah, there was Judith Arndt, with an impressive silver medal...Emma Fahlin, hiding out in embarrassment down in 17th place (did you SEE that helmet?)...but where were the others? Incredibly, they filled out the 21st, 22nd, 23rd, and 24th places, the only four riders to finish outside the points. Behind a rider I had to add to the FSA DS database, I might add.
We haven't heard from Will yet--poor man is cringing in shame somewhere, we assume--but hope he feels better soon. Somewhat. In a nod to his unimaginable embarrassment, we will not do a graph.
Bliss 12594-Moos 11297
July 29, 2012: We at Chamois Full of Bliss just HATE to gloat...but the team SWEPT THE PODIUM in today's Olympic Road Race! Marianne Vos snatched gold; Lizzie Armitstead earned silver; and Olga Zabelinskaya carried off bronze. Pauline Ferrand-Prevot took 8th as well, bringing our point total today to 1075. Whew! We could not possibly be more full of bliss today.
Spare a moment, though, for our rivals... You know what happens when it rains? Cows lie down. Sadly, that's what happened to the Lady Moos today. We hear they did lumber to their feet for some minor placings, but they clearly had nothing to put up against the might of Bliss. What? You want to see what a 1212 point deficit looks like in a graphic? Okay: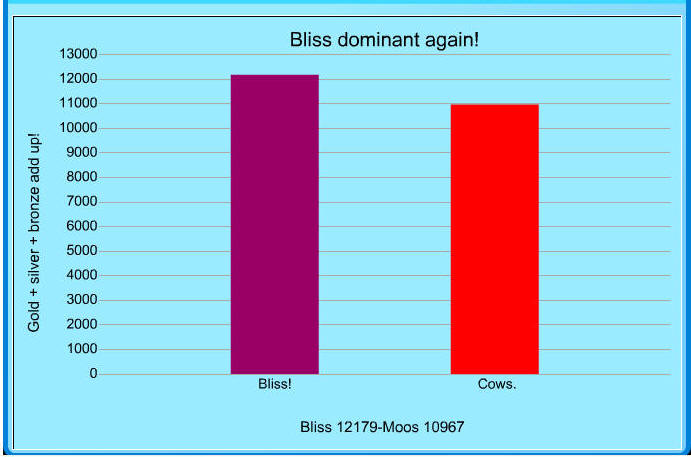 July 22, 2012: Points! Today the FSA DS gods bestowed a total of 6,325 points from 3 stage races. Bliss's share? 1,365. That's right, we carried off close to 22% of the booty! We had 4 riders in the top twenty in the top-rated Thüringen Rundfahrt: Lizzie Armitstead took 4th; Adrie Visser 7th; Claudia Häusler 11th (and 2nd in the mountains classification); and Olga Zabelinskaya 15th. Over in the Tour Féminin en Limousin, the incomparable Marianne Vos snagged the final stage win, the overall, and the points jersey. Loes Gunnewijk stood up on the GC podium with her in 3rd place, while Alexandra Burchenkova rounded out the top ten.
And...the Moos. Two weeks ago, they led us by a slim single point. One week ago, a mere 44 points separated us. Today--hey, I feel a graph coming on!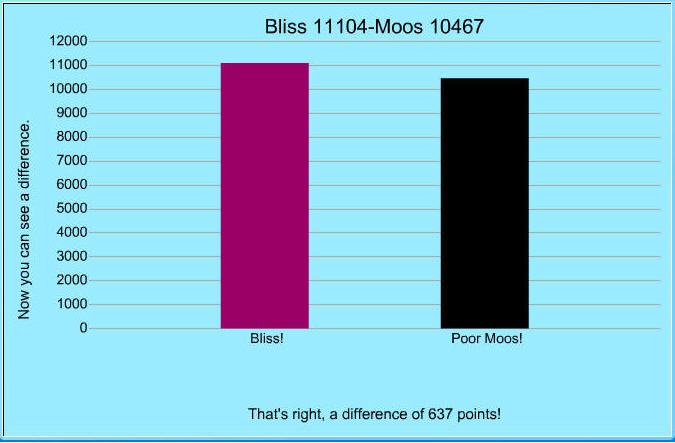 I do love a good visual.
Bliss 11104-Moos 10467
July 15, 2012: Ahhh...that's better! While the beneficiary of last year's bet distracted Will by cycling around the Alps with him, Team Chamois Full of Bliss snuck 45 points out of the Tour de Bretagne Féminin, thanks to a stage 2nd and GC top ten from Alexandra Burchenkova. The leaderless Lady Moos doubtlessly tried their hardest to earn a point or two, but...well...failed.
Bliss 9401-Moos 9357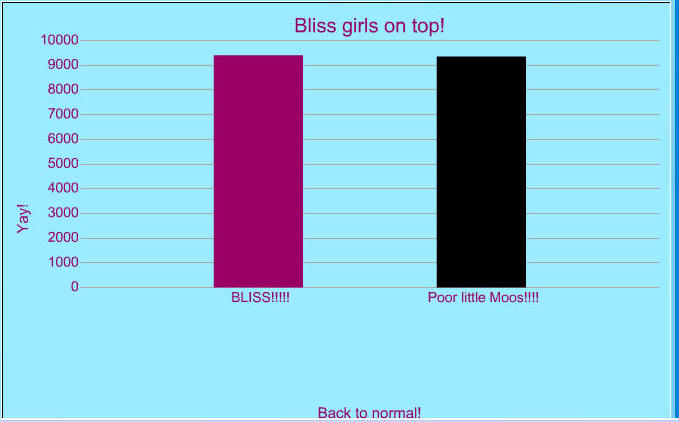 July 7, 2012: Ted? Jens? You've had your little joke, now fix the points, 'kay? The incredible Marianne Vos won the overall in the Giro Donne, took second on the last stage, won the points jersey, and came in 3rd for the mountains jersey, for a (possible record?) single-day haul of 790 points. Fabiana Luperini and Claudia Hausler came in 4th and 8th on final GC, adding another 550 points to the total. 1340 points, when we were only behind the Lady Moos by 501!
And yet, when I look at the rankings, I get this:

That can't be real, can it?
July 6, 2012: Marianne Vos just won her FIFTH stage of the Giro Donne! I'm very nearly speechless, but I did want to take a slight moment to point out that her latest victory has now put us just 501 points down on our dear friends, the Lady Moos. How close will the final GC put us? Time will tell...
July 2, 2012: Mwa-ha-ha! Our cunning plan is working! First, we kept Marianne Vos out of racing for a few weeks, letting the Moos get ahead by about 1000 points. Then, we unleashed Vos like a coiled spring and she, uh, sprang to the head of the pack, crushing the first two stages of the Giro Donne! Now, Bliss is chipping away at the cowsies' lead, 50 points here, 100 points there.
Are you demoralized yet, Will?
Not yet?
Just wait.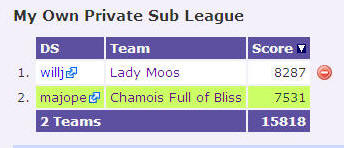 Post-stage update: La cannibale Vos won ANOTHER stage today, and re-takes the pink jersey! Chip...chip...chip...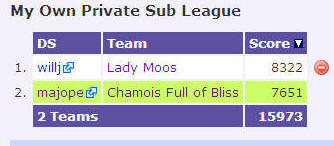 Chart? Charts only work when we're ahead. Trust me on this.
June 18, 2012: Okay, okay...the Moos are a little ahead. But you do understand that this back-and-forth business is just to increase the drama when Bliss finally wins, right? Right? Oh, shut up, we've got more serious things to worry about...
Marmottes Without Contract!
The hunt goes on. More or less.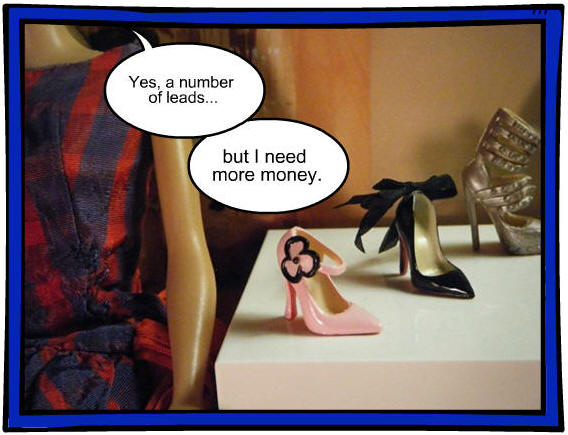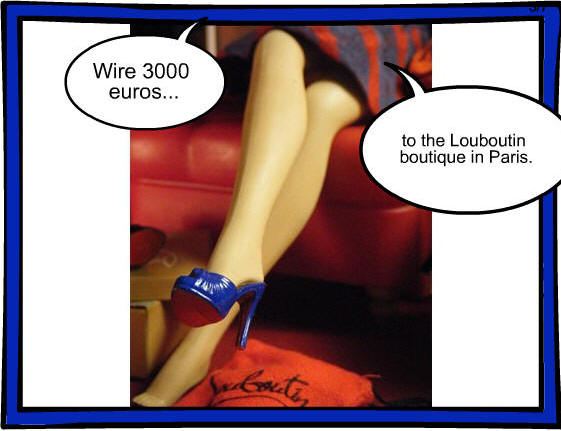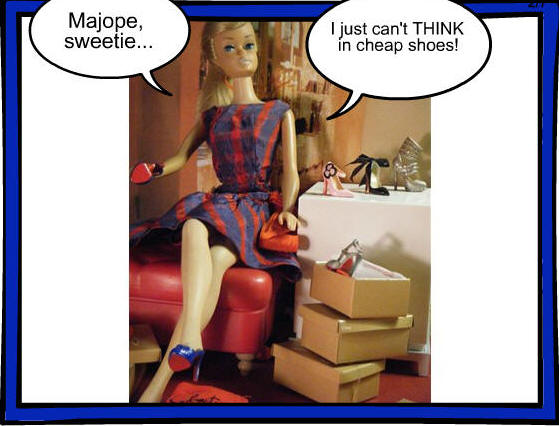 Meanwhile...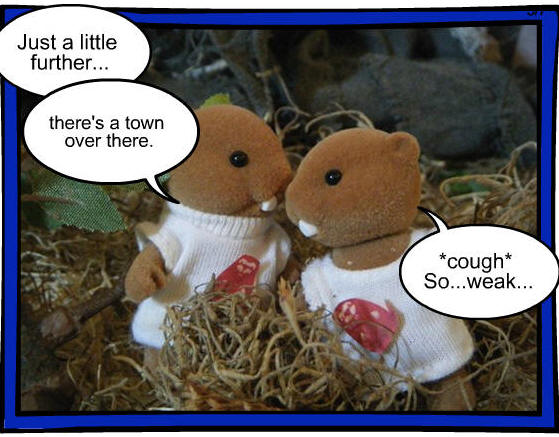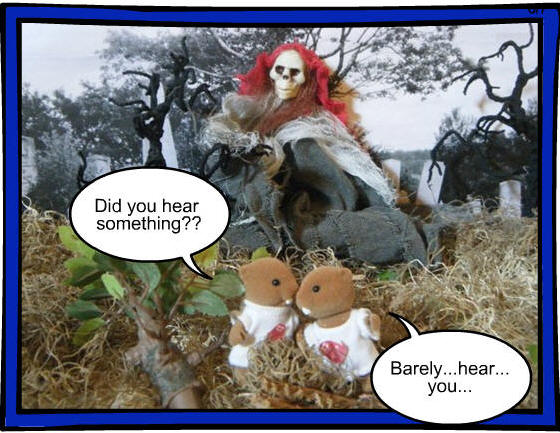 I told you...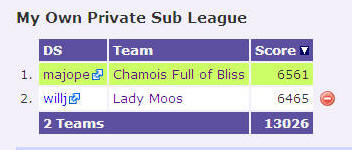 It was just temporary. Bliss is back on top!
Latest update: Whew! Everything's okay...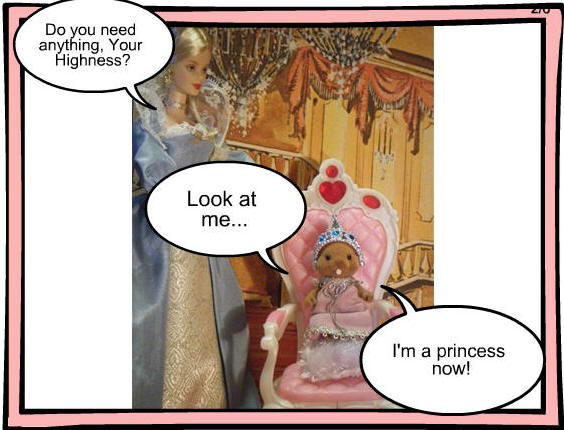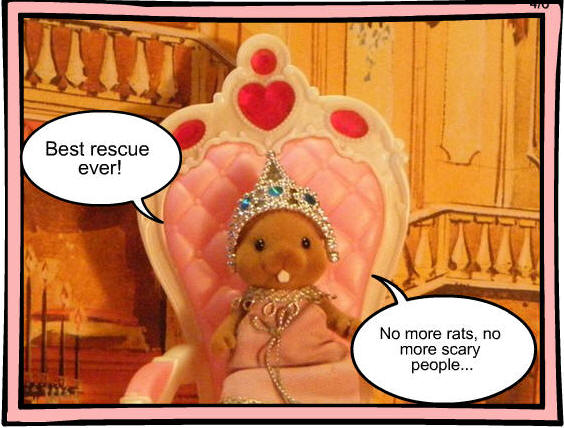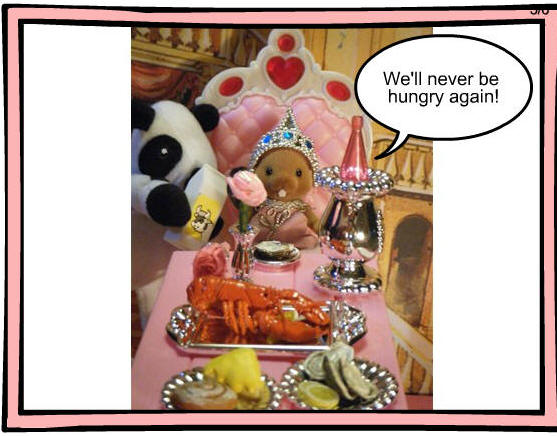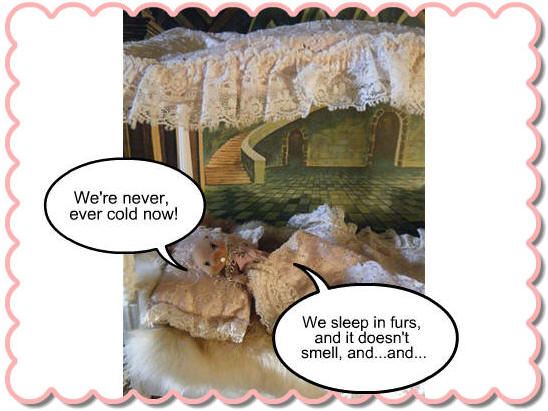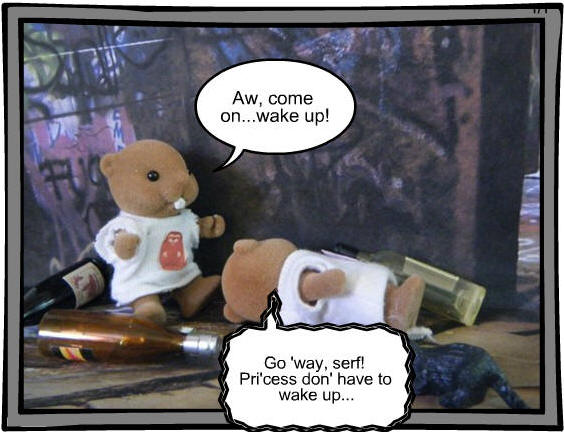 Oh, dear... Not so okay after all...
May 14, 2012: Nothing to worry about! Chamois Full of Bliss is proud that with our support and encouragement, the formerly awkward Lady Moos actually did pretty well in some races in China which Bliss chose not to contest. It's sort of cute to see their renewed enthusiasm, after being cowed for so long.

Still, we've studied their roster in detail and come to this conclusion: there is no one named Vos on it. Enjoy your time in the sun, cowwies. You'll be out to pasture again in no time.
April 29, 2012: More wins!!! Our lovely and dependable Marianne Vos took the overall in the Festival Luxembourgeois du cyclisme feminin Elsy Jacobs, while scrappy 1-pointer Katie Colclough won the final stage in Gracia Orlova. Throw in 3rd on GC for Adrie Visser at Elsy Jacobs, and our lead over the Moos has grown comfortable once more. In his defense, Will was probably too distracted by the Tour de Romandie to direct his team properly. We feel for him. Really.
Bliss 5301-Moos 4695
April 22, 2012: GP Stad Roeselare update. Last night, I had a terrible dream. I dreamt that the Lady Moos had somehow snuck past Chamois Full of Bliss and were leading us by a couple hundred points. Today, upon awakening, I rushed to, well, the Liege-Bastogne-Liege coverage, went for an 8-mile run, came back for the LBL finale, checked in on the Tour of Turkey and some other race that was on today, had lunch, and then hurried to the standings to see if it were true.
It is not. Whew! Silly things, dreams.
While we have allowed the cows closer in the spirit of exciting competition, Bliss leads by a comfortable 235 points. But let's do a graphic to illustrate: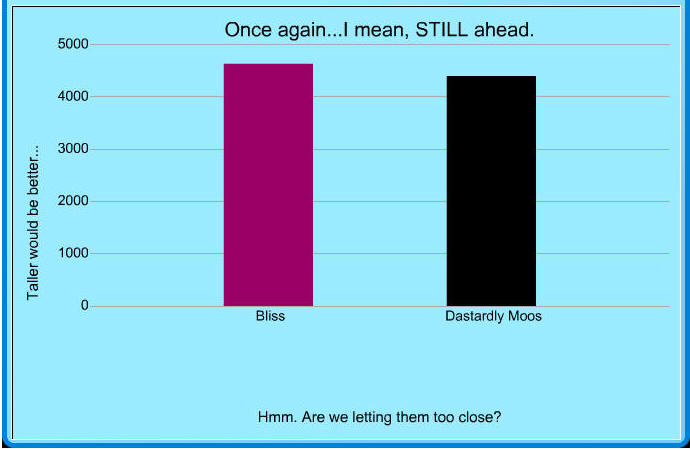 Bliss 4635-Moos 4400
Today, the GP Stad Roeselare was quite good to us, with Christel Ferrier-Bruneau, Marianne Vos, and Lizzie Armitstead taking 2nd, 5th, and 8th respectively. Go, Blissies! There may have been other races recently. I really can't remember.
April 10, 2012: Those cows!!! Yes, I mean the Lady Moos, finally making an appearance, in a special edition of Marmottes Without Contract that happens to be completely free of...
Marmottes Without Contract!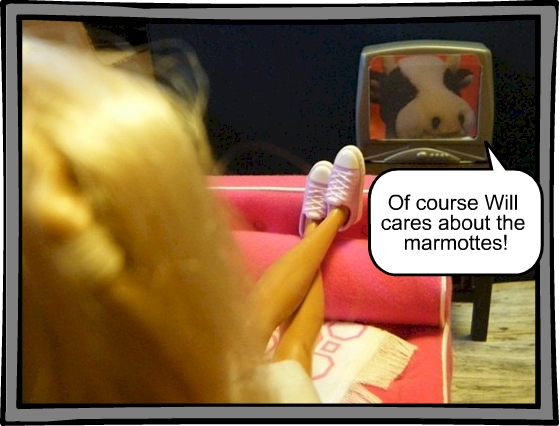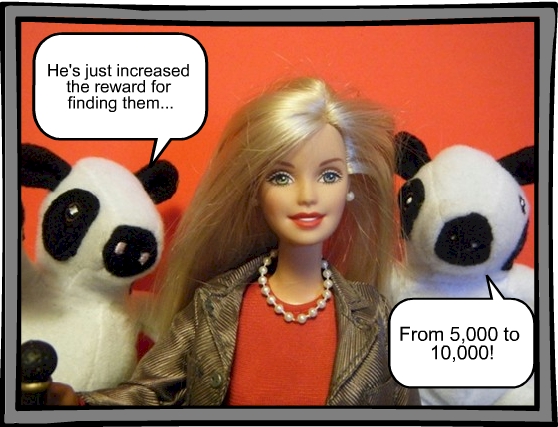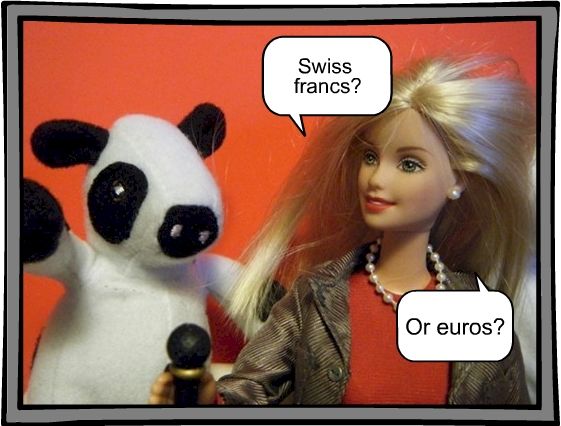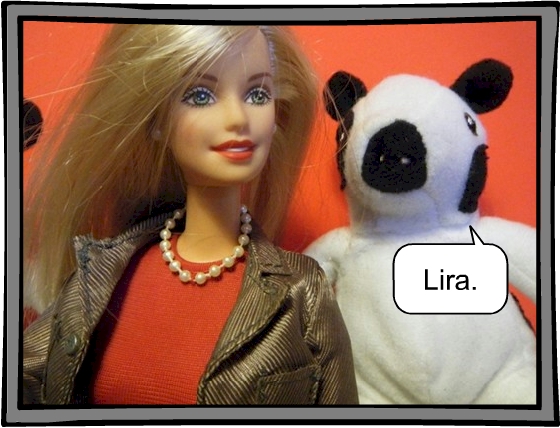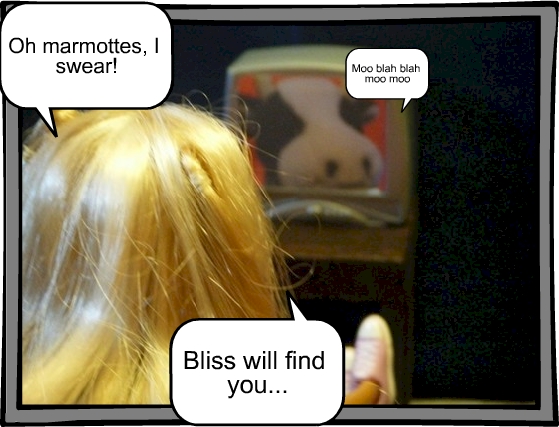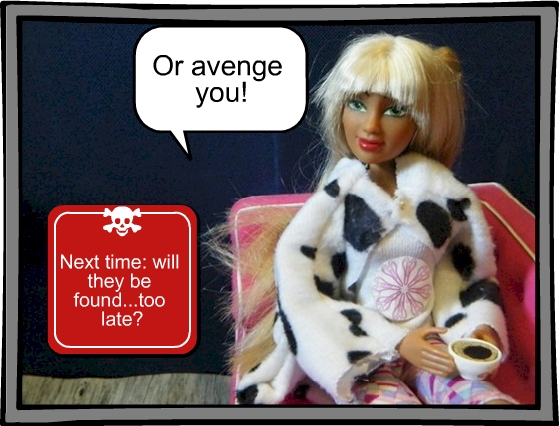 April 9, 2012: Energiewacht update Well, shit happens. The team time trial was not good to our Marianne, who finished the Energiewacht Tour on the podium as expected, but in 3rd place overall, not 1st. Hey, cycling has its ups and downs, as I was saying to my dear friend Will the other day. Then I reminded him that his Lady Moos should use the smaller gears for the former and bigger gears for the latter. In the meantime, the gap between our teams is growing again...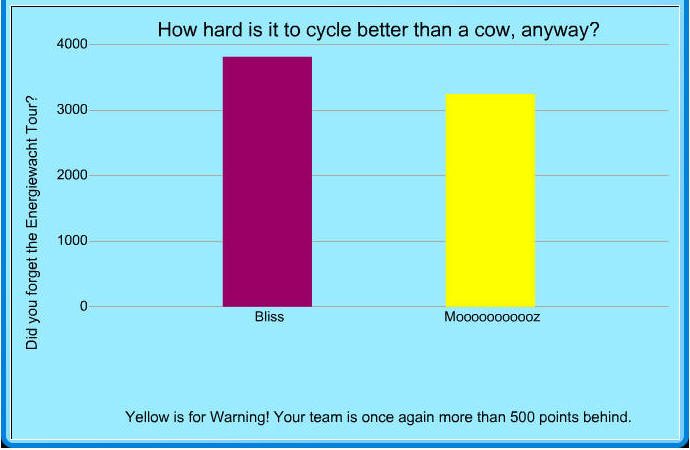 Bliss 3815-Moos 3245
April 6, 2012: Feel the Energie! After three stages, Marianne Vos is in the leader's jersey and poised to take the overall at the Energiewacht Tour. Loes Gunnewijk currently sits 4th in the rankings, with Lizzie Armitstead lurking just outside the top 10. Just two more stages left--go, Bliss girls!
April 1, 2012: Oh, treachery! Rubbing their hands hooves with glee over the sad news that prime favorite Marianne Vos had been felled by a fever, the Lady Moos slyly took advantage of Vos's absence by usurping her proper top step of the podium. Boo, hiss! They then apparently bribed officials to deny Loes Gunnewijk points for her impressive 7th place for several hours. However, we got that sorted out, and with Adrie Visser's 5th in hand, Chamois Full of Bliss ends the day bloodied but unbowed--and still ahead of the dastardly Lady Moos.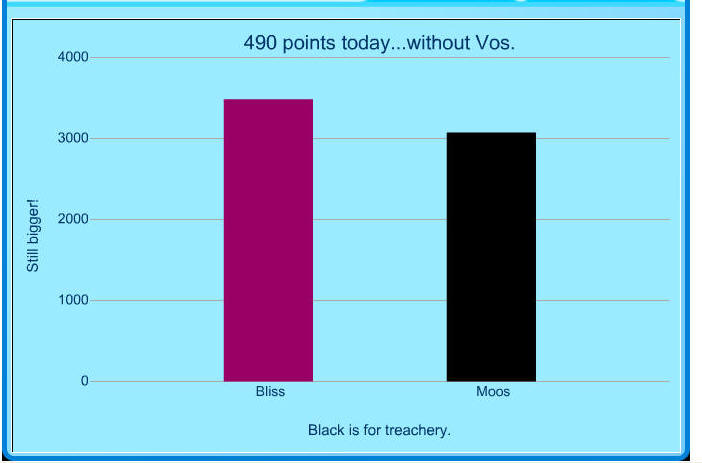 Bliss 3485-Moos 3075
March 25, 2012: One day, two wins! Marianne Vos and Lizzie Armitstead pulled off an incredible double act, taking solo wins at World Cup race Trofeo Alfredo Binda and Gent-Wevelgem respectively. Four of their teammates also scored at Binda: Ferrand-Prevot, Visser, Gunnewijk, and Ferrier-Bruneau (who earned her first points of the year). The team could not be prouder.
And the cows? Well, they have narrowed the gap between our teams...some. Sadly, they're unlikely to catch up, but it's wonderful to see them trying! Horrible to think, though, that maybe they're being inspired by the photos of the poor marmottes. But let's not dwell on unpleasantness--time for the graph!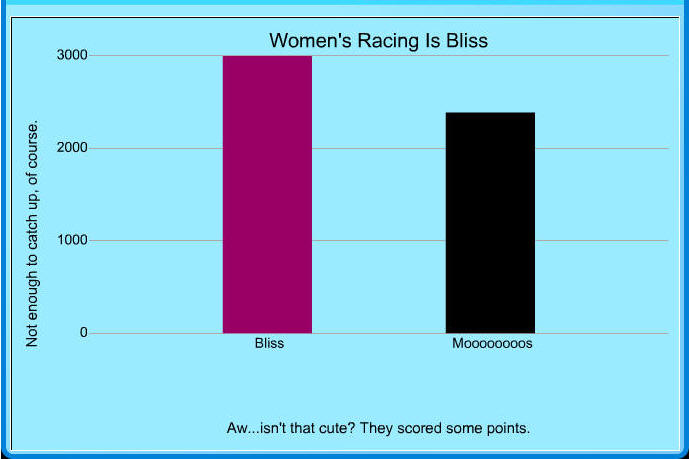 Bliss 2995-Moos 2385
March 16, 2012: Marmotte sighting! Ms. B--, our hard-working private eye, has unearthed another disturbing photo of the
Marmottes Without Contract!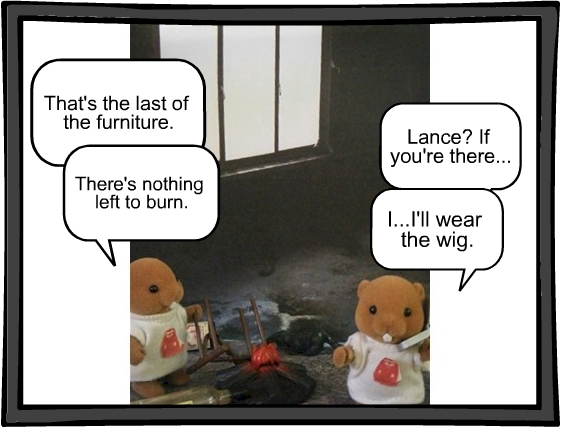 Ms. B-- is very concerned. "One picture could just be a random snap by a passerby. Two? Someone's probably stalking them. Someone with a lot of money--TextCapture cameras aren't cheap--but very little heart, or he'd have done something to help by now. Whoever it is, he's clearly gloating over their misfortune...or perhaps documenting it to, oh, I don't know, inspire his current team to work harder?"
Team Chamois Full of Bliss would like to quash any notion that the nefarious photographer could possibly be Willj himself. We have the greatest quite a bit of some respect for the man, after all, despite his callous treatment of his former team. He could not just stand by and take pictures while they suffer so greatly. He could not.
Oh, Will.
March 11, 2012: Marianne Vos outsprinted Marta Bastianelli from a break today in the Novilon Euregiocup to take her second--and Chamois Full of Bliss's FIFTH--win of the season! Our own Lizzie Armitstead, perhaps exhausted from scoring in three previous races, couldn't quite keep up with the other two but still finished well ahead of the bunch to complete the podium.
Just one of Will's riders stampeded her way into the top 5, which isn't quite as good as 2 out of the top 3, but hey, it's something! I feel another graph coming on...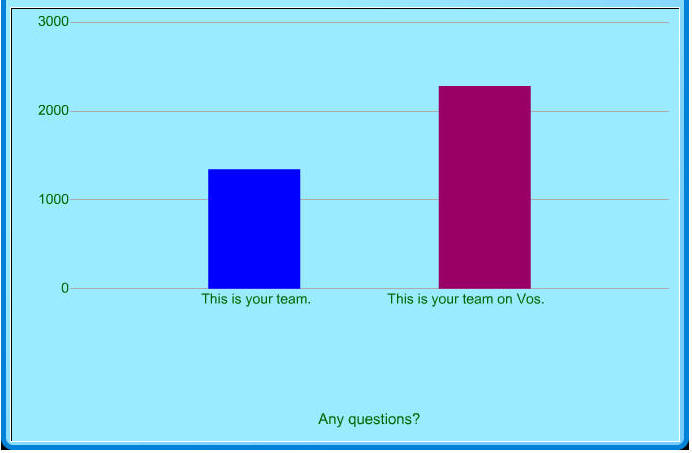 Moos 1345-Bliss 2280
March 10, 2012: Disaster struck Team Chamois Full of Bliss today in the all-important World Cup race Ronde van Drenthe, with not a single rider scoring a point... Nah, just kidding! Bliss took--write this down, there will be a test later--1st, 6th, 9th, 10th, 16th, 17th, and 18th places with, respectively, Marianne Vos, Adrie Visser, Loes Gunnewijk, Pauline Ferrand-Prevot, Alexandra Burchenkova, Lizzie Armitstead, and Charlotte Becker for a total haul of 865 points! That's right, nearly half of the team scored today, and Boss Vos assumed her rightful place as the top scorer of the whole women's FSA DS league--after only 2 races, too.
We understand that Will sent some of his Lady Moos to the race, perhaps for the valuable experience of racing against top pros. We're pleased to see that they actually scored a handful of points, too! That must be so encouraging for them.
This graph, however, will be a little less so. Sorry, cowsies! We're pulling for you to make this a more exciting rivalry!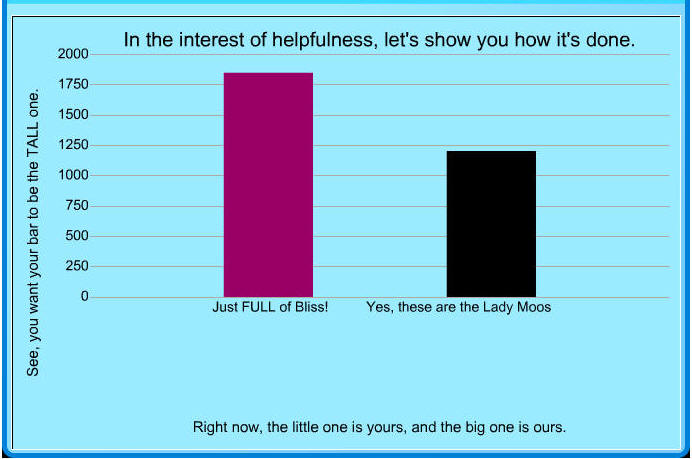 Bliss 1850-Moos 1205
March 8, 2012: Whew! Drentse 8 was a hard-fought battle, but the incredible Marianne Vos earned her first 180 points of the season by hopping up onto the podium in 3rd place. Reliable scorer Loes Gunnewijk contributed 50 for 12th, bringing the Blissful total up to a whopping 985 points!
And our rivals? Rather unladylike moos were heard from the team bus after just one rider hoofed her way into the top 15. Perhaps Will should have stuck with the marmottes. Speaking of which, our search continues for the dastardly-dumped duo, rumored to be in ever direr circumstances...more as the situation develops.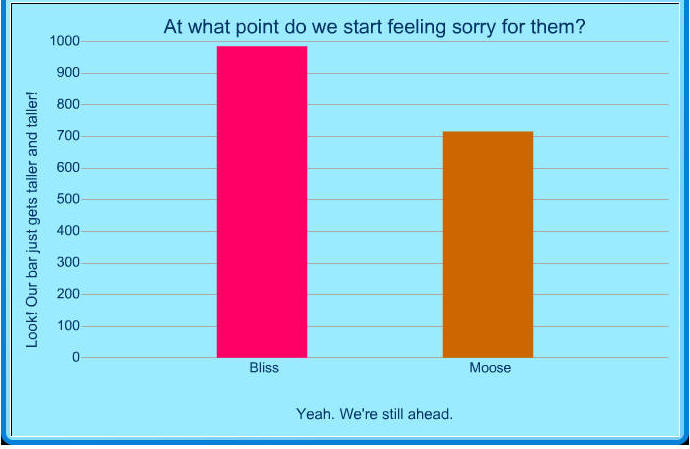 Bliss 985-Moos 715
Update! March 7, 2012: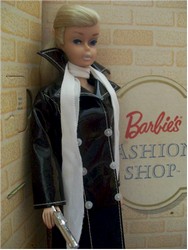 Deeply disturbed by the photos circulating online of the miserable marmottes so heinously abandoned by their former DS, Willj, Team Chamois Full of Bliss has hired the world's finest private investigator to locate the wretched rodents and bring them to safety. No trouble or expense will be spared in an effort to get the poor wee things the help they so clearly need.
Although our squad is full, our team is determined give the marmottes gainful employment and some sort of purpose in life, perhaps as mechanics, soigneurs, or at least team mascots. We may have been bitter rivals last year, but Team Chamois Full of Bliss always admired the plucky spirit of the tiny teammates, and we are heartbroken to see them reduced to such straits.
We will update you on the situation as soon as we know more.
March 6, 2012: It's nothing but tears here today at Bliss Headquarters. An anonymous source sent us this photo, which we sincerely hope is faked, purporting to show what happens to...
Marmottes Without Contract!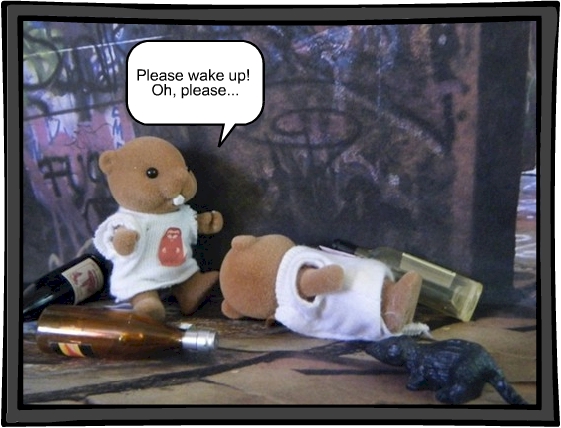 Please, Will--tell us it isn't true!
March 5, 2012: The terms of this year's bet have been settled! Last year, the DS of the then-Lady Marmottes and I agreed that the loser should provide a footwear to some poor underprivileged Swedish urchin, whose feet have never felt properly warm since his youth sailing the Caribbean as a cabin boy on a pirate ship.
How nice that Will was able to provide the lad a pair of slippers, and only had to slaughter two cows to make them! I understand our Jens treasures them greatly, and has taken to calling the left one "Captain."
This year, however, it's personal. If Will and his new Lady Moos win, I will use Barbies to create a fitting photo tribute to his team and the failure of my own. As an alternate, he allows that I could dress up in a cow costume and beg his forgiveness in video format. We do not expect this to happen, obviously.
The more-likely scenario is that the Lady Moos follow the Path to Failure trodden by their predecessors, the Lady Marmottes. When that happens, Will is the one who will get creative with the photography, and praise the Bliss girls in a photo tribute to be published on Podium Cafe. Or he can beg my forgiveness in a video, wearing an appropriately-themed Bliss t-shirt.
Once again, the rivalry should be brutal, bloody, and rather fun. This time, I have every confidence that my webmaster won't wander off with the site password halfway through the season, and thus you can expect updates all year long.
March 4, 2012: Unbelievable! The season has barely started, and Bliss has pulled off yet another win! Lizzie Armitstead took Omloop van het Hageland-Tielt Winge today, followed closely by her teammate Pauline Ferrand-Prevot, with Adrie Visser bolstering our point total by coming in 5th. The Moos? Might as well fire up the barbecue--they just keep falling further and further behind.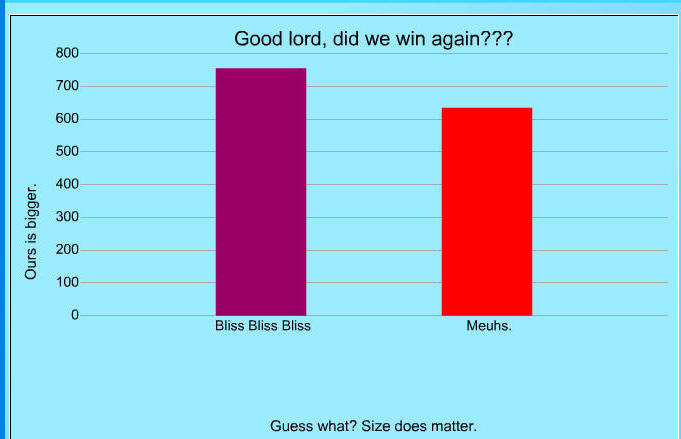 Bliss 755-Moos 635
February 29, 2012: Breaking news! Our own Adrie Visser triumphed in today's Le Samyn des Dames, forcing Noemi Cantele of the Lady Moos to settle for second place, or rather first loser. Cantele gave a valiant effort, but obviously you can't win without a chamois full of bliss! Het Nieuwsblad winner Loes Gunnewijk added 50 points for 6th place today, bringing the day's haul to 200 points--which nearly doubles our total (and puts us a solid 90 points up on the milky misses).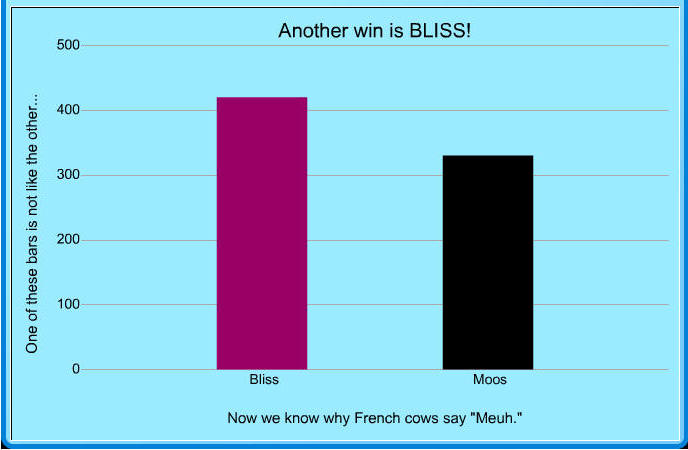 Bliss 420-Moos 330
February 26, 2012: Whew! Despite the general consensus that the Lady Moos would once again be ahead when the Tour of New Zealand final points were awarded, it turns out that the bovine brigade couldn't be bothered to bump us back below. Their teensy weensy haul nudged them up to 205 points, nowhere near enough to threaten Bliss. See you at Le Samyn!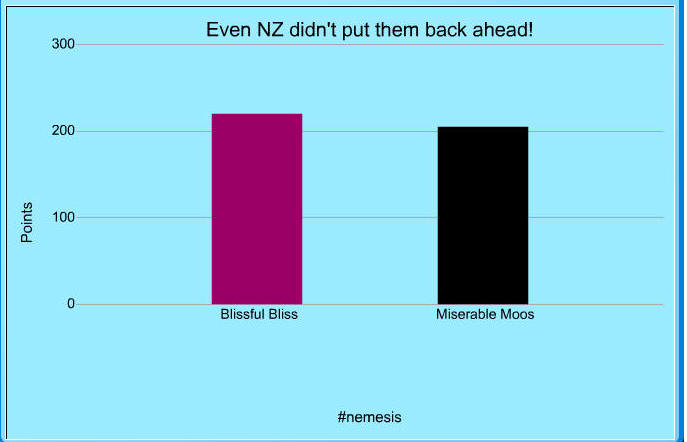 Bliss 220-Moos 205
February 25, 2012: Okay, Will, that was enough of a head start. Bliss just can't be held back! Loes Gunnewijk smashed the field at Het Nieuwsblad today, attacking with less than 30km to go with such ferocity that only Ellen Van Dijk could keep up with her, then whupping Van Dijk in the 2-rider sprint that closed the deal. Pauline Ferrand-Prevot and Lizzie Armitstead added another 70 points between them, to bring Bliss to 220 in a single race. The dear little marmots ungainly cows somehow managed to score half of that, bringing their total up to, well, not enough.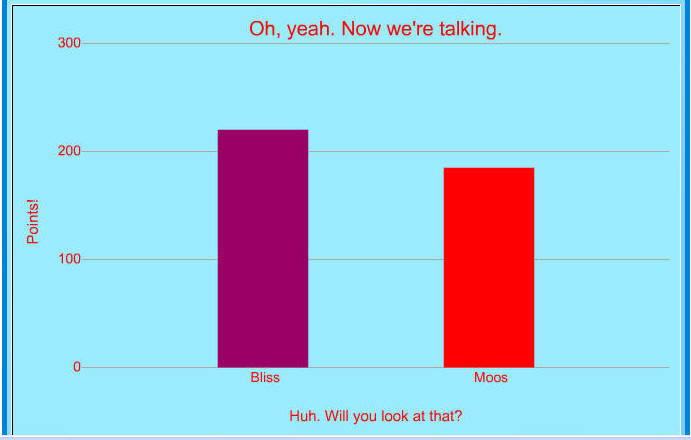 Bliss 220-Moos 185
February 24, 2012: Welcome to another year of Bliss! After studying the early season race schedule, we decided not to contest the Tour of New Zealand, allowing Willj and his Spotty Cows a smidgen of hope for the coming season. We're nice that way.
What are the stakes of the bet between Bliss and the Moos this year? Stay tuned...we're still hashing that out!
After 3 stages in New Zealand, the current score is:
Bliss 0-Moos 75

Chamois Full of Bliss is not endorsed or authorized by the truly awesome product made by DZ Nuts--but you know, Dave, it could be! My contact details are right there on Podium Cafe. Just click on 'majope.' Honest. You give your blessing, maybe throw a couple of tubes of Bliss my way--I really do use it, check your order records--and I'll be sure to talk it up on the Cafe. Bigtime. Win-win, right?
___________________________________________________________________________________________________
Picture credits:
Credit for the Lady Moos training camp picture: Roger Cornfoot [CC-BY-SA-2.0 (www.creativecommons.org/licenses/by-sa/2.0)], via Wikimedia Commons
Credit for the background of the marmottes without contract picture ("please wake up"): By Mattia Luigi Nappi (Own work) [GFDL (www.gnu.org/copyleft/fdl.html) or CC-BY-SA-3.0 (www.creativecommons.org/licenses/by-sa/3.0)], via Wikimedia Commons
Background photos for the marmottes without contract picture ("nothing left to burn") under morgueFile Free License.
Background photos for the marmottes without contract, "need more money," Louboutin boutique by PreteMoiParis (CC BY-NC-SA 2.0); graveyard photo same episode Castine Cemetery Tree, by Mr. Ducke (CC BY-NC 2.0)
Rider photos:
vos: By Maarten Van Camp aka User:Mette Edits: Les Meloures at lb.wikipedia [Public domain], via Wikimedia Commons

armitstead: By johnthescone [CC-BY-2.0 (www.creativecommons.org/licenses/by/2.0)], via Wikimedia Commons

becker: Nicola at the German language Wikipedia [GFDL (www.gnu.org/copyleft/fdl.html), CC-BY-SA-3.0 (www.creativecommons.org/licenses/by-sa/3.0) or CC-BY-SA-3.0-de (www.creativecommons.org/licenses/by-sa/3.0/de/deed.en)], via Wikimedia Commons

visser: By Wim Hoste for robduin.com, Creative Commons Attribution-NonCommercial-ShareAlike 2.0 Generic (CC BY-NC-SA 2.0) http://creativecommons.org/licenses/by-nc-sa/2.0/, via Flickr

hausler: By Fanny Schertzer (Own work) [GFDL (www.gnu.org/copyleft/fdl.html) or CC-BY-SA-3.0-2.5-2.0-1.0 (www.creativecommons.org/licenses/by-sa/3.0)], via Wikimedia Commons

zabelinskaya: from FujiBike.com

burchenkova: By Ludo29880, Creative Commons Attribution-ShareAlike 2.0 Generic (CC BY-SA 2.0) http://creativecommons.org/licenses/by-sa/2.0/, via Flickr

ferrand-prevot: By Thomas Ducroquet (Own work) [GFDL (www.gnu.org/copyleft/fdl.html) or CC-BY-SA-3.0-2.5-2.0-1.0 (www.creativecommons.org/licenses/by-sa/3.0)], via Wikimedia Commons

ferrier-bruneau: By Ludovic Péron (Own work) [GFDL (www.gnu.org/copyleft/fdl.html) or CC-BY-SA-3.0-2.5-2.0-1.0 (www.creativecommons.org/licenses/by-sa/3.0)], via Wikimedia Commons

gunnewijk: gunnewijk: By Edwin Vermaas, wielerpro.nl, Creative Commons Attribution 2.0 Generic (CC BY 2.0) http://creativecommons.org/licenses/by/2.0/, via Flickr

martisova: from Be Pink team website

mustonen: By brassynn, Creative Commons Attribution-NonCommercial-NoDerivs 2.0 Generic (CC BY-NC-ND 2.0) www.creativecommons.org/licenses/by-nc-nd/2.0/, via Flickr

schnider: By ticinoturismo, Creative Commons Attribution-NonCommercial 2.0 Generic (CC BY-NC 2.0) http://creativecommons.org/licenses/by-nc/2.0/, via Flickr

luperini: By Luca Pedroni, Creative Commons Attribution-NonCommercial-NoDerivs 2.0 Generic (CC BY-NC-ND 2.0) www.creativecommons.org/licenses/by-nc-nd/2.0/, via Flickr

colclough: By brassynn, Creative Commons Attribution-NonCommercial-NoDerivs 2.0 Generic (CC BY-NC-ND 2.0) www.creativecommons.org/licenses/by-nc-nd/2.0/, via Flickr